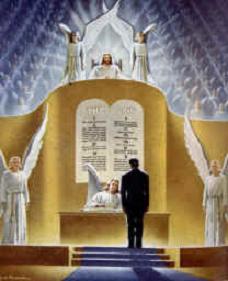 Faithful Servant
God calls after you again. He seeks to reach you, girded about with selfishness as you are, and covered with the cares of this life. He invites you to withdraw your affections from the world and place them upon heavenly things. In order to know the will of God, you must study it, rather than follow your inclinations and the natural bent of your own mind. What wilt Thou have me to do?" should be the earnest, anxious inquiry of your heart.
The weight of the wrath of God will fall upon those who have misspent their time and served mammon instead of their Creator. If you live for God and heaven, pointing out the way of life to others, you will go onward and upward to higher and holier joys. You will be rewarded with the "Well done, thou good and faithful servant: . . . enter thou into the joy of thy Lord." The joy of Christ was that of seeing souls redeemed and saved in His glorious kingdom. "Who for the joy that was set before Him endured the cross, despising the shame, and is set down at the right hand of the throne of God."
To gain the treasures of this world, and use them as you have done to separate your affections from God, will be to you in the end a terrible curse. You do not take time to read, to meditate, or to pray; and you have not taken time to instruct your children, keeping before them their highest interest. God loves your children; but they have had little encouragement to live a religious life.
4T 54