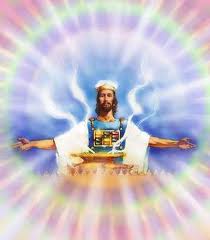 The Robe Of Christ's Righteousness
"And to her was granted that she should be arrayed in fine linen, clean and white: for the fine linen is the righteousness of saints." Revelation 19:8.
The faithful, praying ones are, as it were, shut in with God. They themselves know not how securely they are shielded. . . . But could their eyes be opened, . . . they would see the angels of God encamped about them, by their brightness and glory holding in check the hosts of darkness.
As the people of God afflict their souls before Him, pleading for purity of heart, the command is given, "Take away the filthy garments" from them, and the encouraging words are spoken, "Behold, I have caused thine iniquity to pass from thee, and I will clothe thee with change of raiment" (Zechariah 3:4). The spotless robe of Christ's righteousness is placed upon the tried, tempted, yet faithful children of God. The despised remnant are clothed in glorious apparel, nevermore to be defiled by the corruptions of the world. Their names are retained in the Lamb's book of life, enrolled among the faithful of all ages. They have resisted the wiles of the deceiver; they have not been turned from their loyalty by the dragon's roar. Now they are eternally secure from the tempter's devices. Their sins are transferred to the originator of sin. And the remnant are not only pardoned and accepted, but honored. "A fair miter" is set upon their heads. They are to be as kings and priests unto God. While Satan was urging his accusations and seeking to destroy this company, holy angels, unseen, were passing to and fro, placing upon them the seal of the living God. These are they that stand upon Mount Zion with the Lamb, having the Father's name written in their foreheads. They sing the new song before the throne, that song which no man can learn save the hundred and forty and four thousand, which were redeemed from the earth. "These are they which follow the Lamb whithersoever he goeth. These were redeemed from among men, being the firstfruits unto God and to the Lamb. And in their mouth was found no guile: for they are without fault before the throne of God" (Revelation 14:4, 5).
Now is reached the complete fulfillment of those words of the Angel: "Hear now, O Joshua the high priest, thou, and thy fellows that sit before thee: for they are men wondered at: for, behold, I will bring forth my servant the Branch" (Zechariah 3:8). Christ is revealed as the Redeemer and Deliverer of His people. Now indeed are the remnant "men wondered at," as the tears and humiliation of their pilgrimage give place to joy and honor in the presence of God and the Lamb. "In that day shall the branch of the Lord be beautiful and glorious, and the fruit of the earth shall be excellent and comely. . . . And it shall come to pass, that he that is left in Zion, and he that remaineth in Jerusalem, shall be called holy" (Isaiah 4:2, 3)
LHU 377