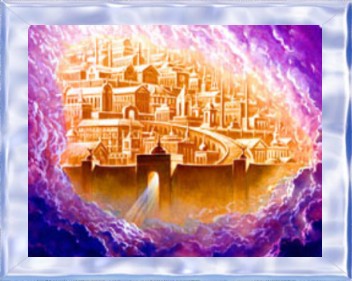 The Glories
Of Our Heavenly Home
"And the building of the wall of it was of jasper: and the city was pure gold, like unto clear glass. And the foundations of the wall of the city were garnished with all manner of precious stones." Revelation 21:18, 19
The glorious city of God has twelve gates, set with pearls most glorious. It also has twelve foundations of various colors. The streets of the city are of pure gold. In this city is the throne of God, and a pure, beautiful river proceeding out of it, as clear as crystal. Its sparkling purity and beauty make glad the city of God. The saints will drink freely of the healing waters of the river of life. . . .
All faces will reflect the image of their Redeemer. There will then be no anxious, troubled countenances, but all will be bright, and smiling in spotless purity. The angels will be there, also the resurrected saints with the martyrs, and the best of all, and what will cause us the most joy, our lovely Saviour, who suffered and died that we might enjoy that happiness and freedom, will be there.--His glorious face will shine brighter than the sun, and light up the beautiful city and reflect glory all around.
Children will be there. They will never be engaged in strife or discord. Their love will be fervent and holy. They will also have a crown of gold upon their heads and a harp in their hands. And their little countenances, that we here see so often troubled and perplexed, will beam with holy joy, expressive of their perfect freedom and happiness. . .
The saints will have crowns of glory upon their heads and harps of gold in their hands. They will play upon the golden harp and sing redeeming love, and make melody unto God. Their former trials and suffering in this world will be forgotten and lost amid the glories of the New Earth. And they will ever have the approving smiles of Jesus upon them, and their happiness will be complete. . . . The future abode of the saints will be all glorious.
ML 357