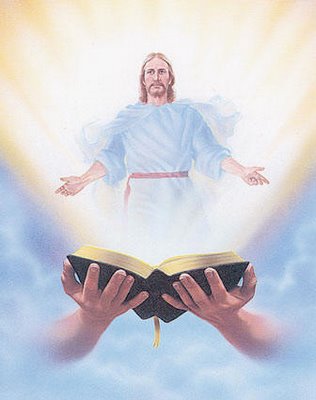 Bible Our Guide
He who does nothing until he feels especially compelled to do something for God, will never do anything. God has given his word, and is this not sufficient? Can you not hear his voice in his word? If you will use God's appointed means, and diligently search the Scriptures, having a determined purpose to obey the truth, you will know the doctrine whether it be of God; but God will never work a miracle to compel you to see his truth. God, in giving his only begotten Son to die on Calvary's cross, has made it possible for all men to be saved. Christ died for a ruined world, and through the merit of Christ, God has elected that man should have a second trial, a second probation, a second test as to whether he will keep the commandments of God, or walk in the path of transgression, as did Adam. Through an infinite sacrifice, God has made it possible that men shall practise holiness in this life. Those who would ascertain their election for the future life, may ascertain it by their attitude of obedience to the commandments of God. Strong emotions, strong impulses, or desires, for heaven, when listening to a description of the charms of a future life, will not prove that you are elected to sit down with Jesus Christ upon his throne. If you would know the mystery of godliness, you should follow that which has been revealed. The conditions of eternal life have been plainly stated. Jesus says: "If ye love me, keep my commandments. . . . He that hath my commandments, and keepeth them, he it is that loveth me: and he that loveth me shall be loved of my Father, and I will love him, and will manifest myself to him. . . . If a man love me, he will keep my words: and my Father will love him, and we will come unto him, and make our abode with him. He that loveth me not keepeth not my sayings: and the word which ye hear is not mine, but the Father's which sent me." Here are the conditions upon which every soul may be elected to eternal life. Your obedience to God's commandments will prove that you are predestinated to a glorious inheritance. You are elected to be laborers together with God, to work in harmony with Christ, to wear his yoke, to lift his burden, and to follow in his footsteps. You have been provided with means whereby you may ascertain what to do to make your calling and election sure. Search the Scriptures, and you will find that not a son or daughter of Adam is elected to be saved in disobedience to God's commandments.
Should God save men in disobedience, after granting them a second probation, putting them to the test in this life, they would fail to regard his authority in the future life. Those who are disloyal to Christ in this world would be disloyal to him in the world to come, and would create a second rebellion in heaven. Men have the history of Adam's disobedience and fall before them, and because of this they should be warned against venturing to transgress the law of God. Jesus Christ has died in order that all men may have a chance to make their calling and election sure; but the standard of righteousness in this gospel age is no less than it was in the days of Adam, and heaven will be the reward of obedience.
The world is making void the law of God, but Christians are elected to faith, loyalty, and sanctification. They are elected to obey the commandments of God, although in so doing they must lift the cross. RH, September 28, 1897
The Bible, just as it reads, is to be our guide. Nothing is so calculated to enlarge the mind and strengthen the intellect as the study of the Bible. No other study will so elevate the soul and give vigor to the faculties as the study of the living oracles.